Click on "View All Resources" for an A to Z list.
Biography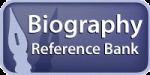 Resource Description:
This comprehensive biographical database offers the in-depth, original profiles from the Current Biography and World Authors series, the thorough periodical coverage of Biography Index and the specialist biographical content of Junior Authors & Illustrators. It provides biographical full-text articles, page images and abstracts from today's leading magazines and journals. Content includes coverage...