Click on "View All Resources" for an A to Z list.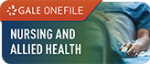 Resource Description
Provide access to authoritative content including full-text titles cited in CINAHL supporting specialized care, treatment, and patient management. This essential resource is versatile and features highlighting and note-taking tools as well as an intuitive interface, providing multiple pathways to key information. Updated daily, this resource will help nursing professionals already working in the field, as well as students pursuing a nursing-focused curriculum.
Exclusive features, including Topic Finder, InterLink, and a mobile-optimized interface, support and enhance the search experience.