Click on "View All Resources" for an A to Z list.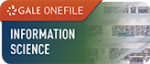 Resource Description
Library science students, information science and technology professionals, and others will value the Information Science & Library Issues Collection. It is updated daily with articles covering all aspects of managing and maintaining information and technology, including usability, cataloging, circulation, business information, and more.