Click on "View All Resources" for an A to Z list.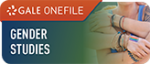 Resource Description
Gender Studies Collection provides balanced coverage of this significant aspect of culture and society. The database offers access to scholarly journals and magazines covering topics including gender studies, family and marital issues, and more.
Exclusive features, including Topic Finder, InterLink, and a mobile-optimized interface, support and enhance the search experience.