Click on "View All Resources" for an A to Z list.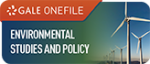 Resource Description
The Environmental Studies & Policy Collection is a digital resource that answers inquiries about environmental concerns with coverage of more than 5.4 million articles from more than 300 journals and book reference content from Delmar, including Soil, Science, and Management; Introduction to Agronomy; Food, Crops, & Environment; Fundamental Soil Science; and more.
Exclusive features, including Topic Finder, InterLink, and a mobile-optimized interface, support and enhance the search experience.