Click on "View All Resources" for an A to Z list.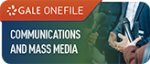 Resource Description
Powered by InfoTrac, the Communications & Mass Media Collection brings together information found in more than 400 journals. Nearly 3 million articles on all aspects of the communications field, including advertising, public relations, linguistics, and literature, meet the needs of researchers. Exclusive features, including Topic Finder, InterLink, and a mobile-optimized interface, support and enhance the search experience.