Click on "View All Resources" for an A to Z list.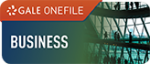 Resource Description
A comprehensive business resource for the undergraduate researcher seeking company news, the public library patron making personal investment decisions, or the high school student looking to major in business administration, Business Collection provides full-text coverage of all business disciplines including accounting, economics, finance, marketing, management and strategy, as well as business theory and practice. Users will understand the activities of companies and industries worldwide through nearly 4,000 leading business and trade publications, updated daily. Complementing these titles is a selection of international, U.S., and regional news publications, all available on the state-of-the-art InfoTrac platform.