Click on "View All Resources" for an A to Z list.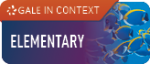 Resource Description
Children learn best when there are fewer barriers to learning. That's why Gale's popular, kid-friendly student database, Gale In Context: Elementary, matches how students naturally navigate online.
Elementary school resources like Gale In Context: Elementary give children a safe place to find answers to their questions, practice research skills, and explore interests inside and outside the classroom. It also gives teachers access to digital resources that can supplement and enhance in-person and online instruction.