Click on "View All Resources" for an A to Z list.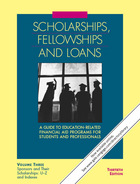 Resource Description
Provides comprehensive information on sources of education-related financial aid sponsored and administered by private organizations and companies. Covers a variety of programs in all educational areas, including area and ethnic studies, business, computer science, education, liberal arts, medicine, physical sciences, theology and religion, and more. Intended for students and others interested in education funding.