Click on "View All Resources" for an A to Z list.
Biography Reference Bank (EBSCO)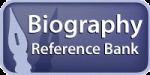 Resource Name:
Biography Reference Bank (EBSCO)
Resource Description:
This comprehensive biographical database offers the in-depth, original profiles from the Current Biography and World Authors series, the thorough periodical coverage of Biography Index and the specialist biographical content of Junior Authors & Illustrators. It provides biographical full-text articles, page images and abstracts from today's leading magazines and journals.
Content includes coverage of more than 750,000 individuals, links to more than 650,000 related full-text articles, as well as abstracts and images from thousands of periodicals, and a searchable collection of more than 35,000 images. Users can search for individuals based on any combination of occupation, activity, gender, place of origin, birthday and lifespan. Results can be limited by source type, and searchable indexes can be used to browse by biography name, document type, geographic terms and more.