Click on "View All Resources" for an A to Z list.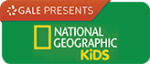 Resource Description
Engage kids and young students to broaden their educational horizons with reputable, special, authoritative, and age-appropriate digital content that brings them the world in a way they have never seen before. National Geographic Kids will take them on amazing adventures in science, nature, wildlife, culture, geography, archaeology, and space.