Click on "View All Resources" for an A to Z list.
Rosetta Stone (EBSCO)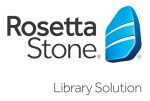 On July 1, 2019, Rosetta Stone will no longer be available for library customer use through COSMOS. Mango Languages is, and will continue to be, part of our digital library services collection.
Improve your English or learn another language with Rosetta Stone Library Solution. This is an effective, easy-to-use program that allows you to learn a new language on your own time. Rosetta Stone offers core lessons to build reading, writing, speaking and listening skills in 30 languages including Arabic, Chinese, ESL, French, German, Greek, Italian, Japanese, Russian and Spanish.